2023

---
Water Buddy
Product Design
UI/UX
App Interface Design
Water Buddy™ is a friend that makes sure you stay hydrated. They love spending time with you and can hang around your neck while you work or while you do your own thing.



Context

Staying hydrated is a crucial part of both physical and mental health, however in the midst of busy day-to-day life, many people struggle to drink water. Though there are water tracking apps that provide notifications, they are able to be easily overlooked and forgotten.
The Goal
Make a friendly product that provides a direct approach to remind users to stay hydrated.
Design an app that would connect with the product to track and provide live updates of the user's water intake.
Create better hydration habits through automated systems within the product.
The Process
After sketching a few concepts for the product itself, I was drawn to a simplistic yet cute approach to the design. I then began building the actual mechanics of the toy, making sure I was able to set up the features I wanted, while also prototyping the actual plush to allow for the different components to sit inside of it.
I felt that an app would be a great addition to the product, allowing for the user to track their hydration habits through the use of Water Buddy. After visualizing userflows, I began designing the app while keeping in mind the relationship between the two products.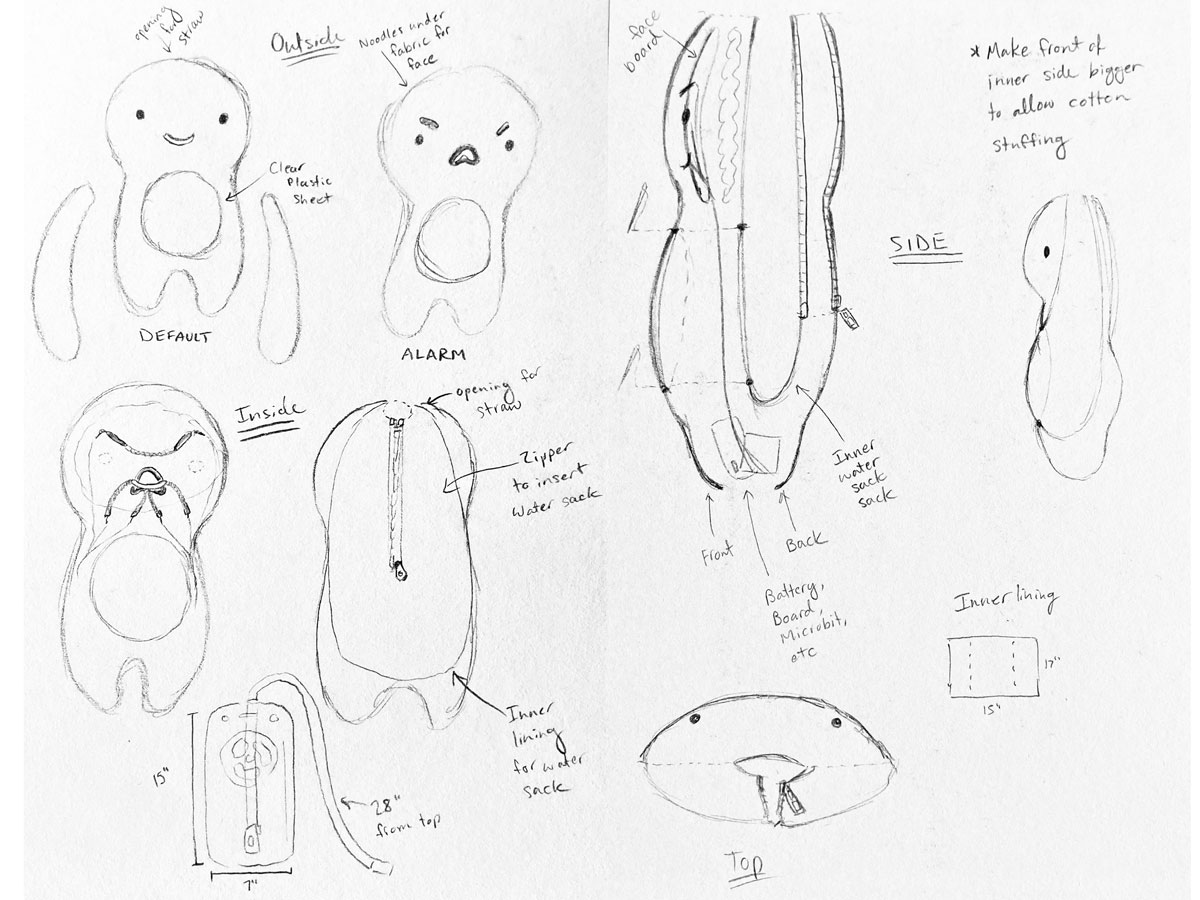 The Product
You can see how much water you have in the water pouch through Water Buddy's™ belly, and can easily remove the pouch to refill when needed.
This plush is a fully functioning toy using Microbit to automatically set up timers with 15 minute intervals with a vibration motor to go off when time is up to alert the user to drink water. Wiring in the straw detects your mouth to reset the timer at any point as well as the LED strings that change between a smile and a frown.
Alongside the toy is an app designed to display the user's water hydration habits.