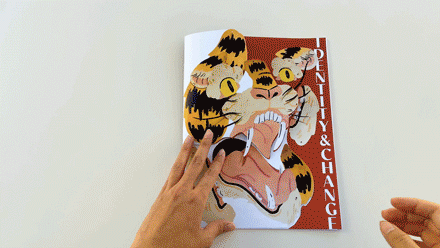 2021
---
Identity & Change - An Interview Publication
Publication Design
Research
Typography
Identity & Change is a publication highlighting an interview with Seattle based illustrator and artist named Monyee Chau whose works explore a journey of personal and collective healing through intersectional lenses of being queer and Taiwanese/Chinese.

With the purpose of this project being to find someone to interview, Monyee was one of the people I immediately turned to as their work not only pushes themselves to examine their own
Asian American identity, but also pushes ways to connect that aspect of themselves into a means of helping the community.
2
3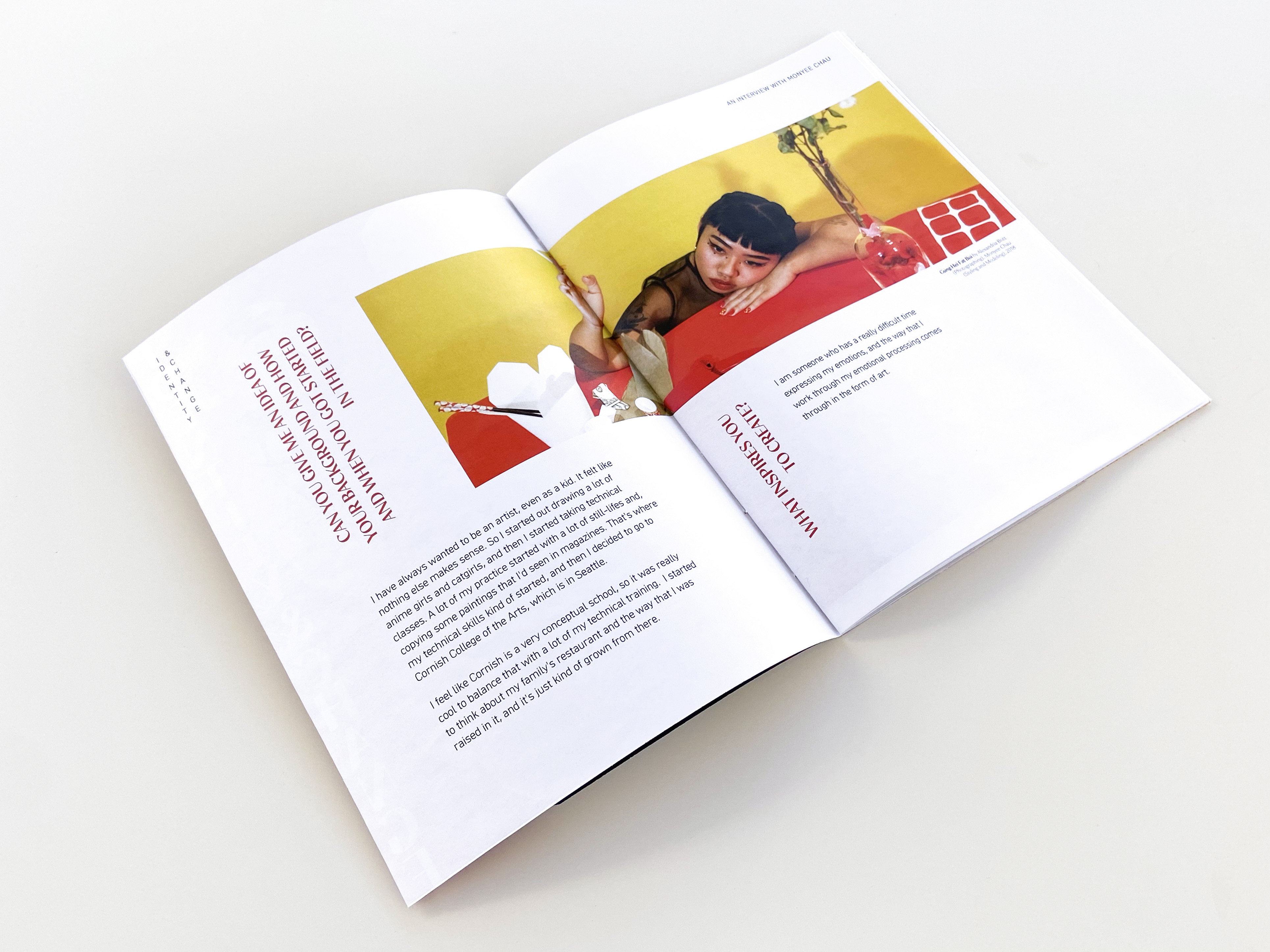 4
I chose to layer this publication in a way that showcases the layers of understanding Monyee and their work, especially when it comes to breaking down the deep characteristics of identity its relationship to change. When asked which piece represents them the most, they said "Paper Tigers in Theory," which acts as the face of this book.
With the typography, I wanted to tie that in with Monyee's goal of reconnecting with their culture as an Asian-American, and, in both our cases, reconnecting with Chinese Culture.
I drew a lot of inspiration from the vertical lettering of Chinese script and the way Chinese booklets were formatted while also taking into account the grid system and western horizontal layouts.
It was really important to me to use and show support for a typeface designed by asian designers, so with one of the typefaces, I chose Min Sans by TienMin Liao who is a NYC based designer and works to explore bi-scriptual pairings that are complimentary for both Asian and Western audiences.
For the body font, I chose UDJingXiHei by a Chinese design team, with this font complimenting Min Sans displaying Latin letters that are also designed for vertical typing.
I conclude with a moving statement Monyee made in the end of the interview:
"Organize, be with your communities, build together, and take some time to make a vision of what you want to see in the world and be just that."